Wireless intercom systems & integration
---
{{item.currency}} {{pricing}}
---
---
{{item.currency}} {{pricing}} {{item.currency}} {{item.normalPrice}}
---
{{item.currency}} {{pricing}} - Out of Stock

Wireless Radio and Wireless Digital Intercoms
Wireless radio intercoms are in essence modified two-way radio configurations. Ranges of between 50 and 350 meterare possible subject to line of sight an specific product. The range can be extended on some handsets by hooking it up to an antenna.
Rain-proof gate stations comes standard with one or two push-buttons. Audio is automatic from the gate station and the visitor need not push a button to talk.
Wire requirement is minimal and is restricted to the gate unit.
These systems have a back-up battery which kicks in during a power failure. All handsets are wireless and operate like a portable phone. You are not limited by the number of handsets.
Battery life can be as long as 18 hours in stand-by mode (dependent on specific product). You don't need a operator's license; these products are approved by ICASA.
Charging them overnight will probably be more than sufficient for the next day
There are no call-charges.
These systems are ideal for smaller applications.
Keep in mind that excessive plant growth and external radio interference may limit the operating distances.
Do not hesitate to call us if you want to discuss products not found here.Most of these products are equally suitable for home- and office use.
G-Speak Classic
The G-Speak Classic is an entry level GSM Intercom Module. It comes with very little bells and whistles!
The gate station is equipped with two push buttons, making it ideal for House / Cottage, or House / Staff, or House / Office. Each push button can be configured to call only one number.
You may add up to 10 trusted people's numbers; giving them permission to open the gate with a missed call.
The unit is programmed with SMS commands.It has one relay with which to trigger the gate.
GSM Based Cellular Intercoms

It is ideal for people on the go!As the heading suggests, these intercoms uses the GSM cellular network.
Use your cell phone to answer the intercom from anywhere; open the gate from anywhere.
You can even monitor things like your electric fence. Get notification if your gate stands open!
Cable requirement is limited to the gate station.A dedicated SIM card is required. A relatively strong cellular signal is necessary for the intercom to work reliably. Calls from the units are charged according to your service provider's tariffs - so shop around.
Systell X4 GSM Based Intercom System
The Systell X4 is a GSM Based Intercom Module accepts up to 4 intercom push buttons as input. Each push button can be programmed with two stored telephone numbers.
It has two relays with which to trigger gates or other devices.
Any of the spare inputs may also be used for other inputs; you could for example monitor the electric fence. You'll then receive an SMS or pre-recorded voice message when the alarm is triggered. Please note that additional cabling and equipment may be required.
It was designed to work in conjunction with the BPT and Fermax gate stations, making it possible to upgrade them from a "wired" system to a GSM Based" system. Keep in mind that you'll loose the use of the internal handsets as your phone will take over that role.
The unit is programmed via:
SMS command send to it from your cell phone.

PC (a cable connection is required - optional extra)
The event log stores up to 16000 events. This log can be downloaded by connecting the unit to a PC via an optionally extra cable.
Up to 1000 phone numbers of trusted people can be stored; giving them permission to open the gate with a missed call.
The Zartek Wireless Intercom System is newly developed and three years of R&D in the making. It is fully approved by ICASA.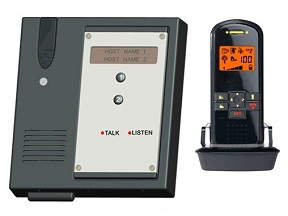 Communication is initiated from the gatestation by pressing button 1 or 2. Only the selected houses handset will ring and communication is established. Communication is simplex so only one person can speak at a time but the gatestation�s microphone is always active so the visitor does not have to press any key to speak.There are 2 triggers that can be activated from the handset for opening a motorized gate or striker lock. These can trigger the front gate station at any time or during a call.The handset can place a call to the front gate at any time by pressing the PTT button. Multiple handsets can be added for the same house to have internal communication. There are LED lightswhich indicate to the visitor when to talk and when to listen. The insidehandset can enter into the conversation at any time by pressing a PTT button. There is a handset calling button which works on push-to-talk.Programming is done manually to link handset or handsets to a button. If only one button is used the other one will be inactive. There is a light sensor which illuminates the gatestation at night.